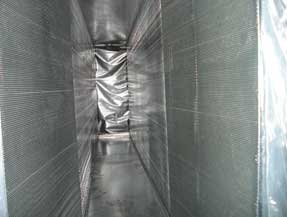 Healing Place Church
Baton Rouge, LA
Healing Place Church is one of the fastest-growing churches in Baton Rouge. At the new facility being built on Highland Road, there was concern about noise generated by the air handling units transferring to the auditorium and other areas where recordings will take place. It was determined that silencers (sound attenuators) would be required in the supply and return ductwork. Air-Side Equipment, working with the mechanical engineer and our manufacturer, Price Industries, provides the specific selections required to meet the noise levels specified.

Air-Side provides (8) Price Industries sound attenuators #RM with sizes up to 240" x 120" x 120" long. Price was able to ship these attenuators in the required three weeks time frame so the project was not delayed.

Price manufactures the most extensive line of noise control products in the industry. With a full line of rectangular, circular, elbow and specialty silencers to the revolutionary terminal / silencer SDVQ – Price is leading the industry in providing high quality noise control products for every application.